I've had to rebuild my personal website because the database got corrupted

Now I'm using a static site host so no more database worries. But now the hamburger menu icon is giving me problems.
I've used the hamburger menu before with no problems but today when I tested it on my mobile device and instead of seeing the hamburger icon I see the "X" failed to load symbol as shown in the screenshot below. I've tested with Chrome and Brave browsers and both produce the same result.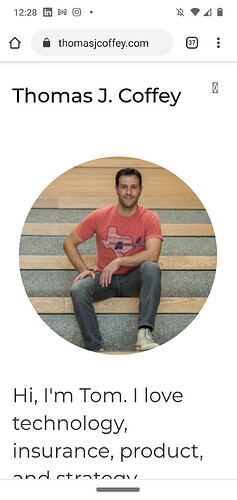 The icon still functions. When I click the X I can toggle the menu dropdown on / off.
Also, when I test in developer tools with Chrome and Brave browsers it looks fine as shown here:
Anyone have any idea as to what's going on?
Would anyone be willing to test my site https://thomasjcoffey.com on their device? Maybe it's an issue with my mobile device? I don't have any other mobile devices to test with at the moment.
P.s. I'm not using any plugins or code that I believe could cause this. In addition to BB, the only plugin I use is Simply Static. Only code I use is the CSS snippet below that centers text on mobile and I've tested without the CSS and my icon is still broken
/**
 * mobile-left-center class makes left aligned text center in mobile layout
 * mobile-right-center class makes right aligned text center in mobile layout
 *
 * @author Davinder Singh Kainth
 * @link http://probeaver.com/?p=770
 *
 */
 

.mobile-left-center {
  text-align: left;
}

.mobile-right-center {
  text-align: right;
}


@media only screen and (max-width: 768px) {
.mobile-left-center,
.mobile-right-center {
  text-align: center;
  }
}